Expert design and proactive maintenance to keep your entire IT infrastructure optimized and safe from emerging cyberthreats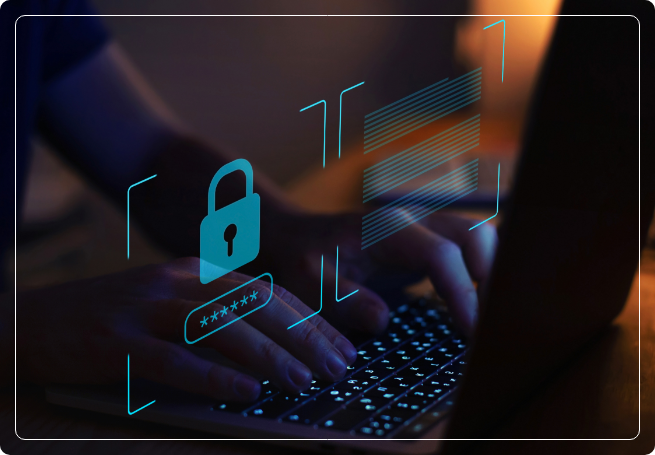 Run your business on a high-performance, secure network and achieve success more efficiently
In today's digital era, businesses demand IT to be more robust, secure and yet cost-effective. To achieve operational productivity along with compliance, strategic network architecture and efficacious security solutions are required. QDS Network & Security division ensures you get these services and solutions without any hassles or worries.
Our highly skilled and experienced team will assess your business needs, existing network architecture and security posture. We'll then implement solutions that not only cover your entire threat landscape but also strengthen your entire IT infrastructure. Our goal is to protect your data, people and reputation while you work toward success.
Our network and security solutions lead to better business outcomes through:
Best-in-Class network solutions and services tailored to your business needs and goals
From strategic planning to implementation and support, we make sure your network provides required productivity through innovation.
Manage your network more efficiently and effectively with our tools, including:
We take your cybersecurity seriously, keeping you protected across all attack vectors
Strategic cyberdefenses and end-to-end threat management, in line with leading frameworks, to protect your digital assets and keep you complian
Infrastructure and Network Security
Next-Gen Firewalls – prevention-based architectures that detect and block threats in real time and evolve with your business
Network Visibility/Access Control – proven security solutions that keep your business safe from suspicious or unauthorized access
Secure Web Gateway – URL filtering and application controls to minimize the risks of online attacks
DNSSEC – protocols and specifications that strengthen the security of your domain name system
DDoS Solution – patented firewalls and security tools to protect your business against a distributed denial-of-service attack, which is a malicious attempt to make a network unavailable by overwhelming it with false traffic
Web Application Firewalls – advanced protection that monitors, filters, and blocks a variety of malicious online attacks
Application Delivery & Control – a single point of control that handles load balancing between servers, allowing for faster application delivery
Web API Security – a robust cybersecurity tool that detects and remediates online attacks on your website
Secure Email Gateway – a gateway that protects your email environment against online threats such as malware, ransomware, and phishing
Email Anti-Spoofing (DMARC) – Domain-based Message Authentication, Reporting & Conformance to assure your clients and business partners that emails sent out from your organization are secure
Phishing Simulation Solution – test your employees' awareness so they are better protected against social engineering attacks
Endpoint Protection Platform (EPP) – effective, up-to-date solutions to protect all your devices against zero-day attacks, data breaches, and other malicious attacks
Endpoint Detection & Response (EDR) – an integrated, advanced threat detection tool that provides real-time protection for all your endpoints
Endpoint Encryption – robust prevention of unauthorized access and malicious attacks on all your devices/li>
Mobile Device Management – easy, efficient solutions for your IT administrators to control, secure, and enforce policies on smartphones, tablets, and other endpoints
Security Monitoring and Operations
User and Entity Behavior Analytics (UEBA) – an intuitive intelligence tool that proactively monitors activity and effectively detects and responds to any anomaly
Security Information and Event Management (SIEM) – data aggregation and analytics tools that detect and respond to abnormal behavior before damage can be done to your systems
Security Orchestration Automation and Response (SOAR) – a clear-cut, effective process that includes vulnerability management, incident response, and security operations automation
Data Classification – an efficiency-boosting process of organizing data into categories, making it easy to access, archive, retrieve, and store for future use
Data Loss Prevention – a bundle of effective security solutions to keep your entire database safe against emerging threats
Data Encryption – a proven solution to keep your business data, reputation, and industry compliance intact
Database Security – all-round protection for your database and applications that access it
Identity & Access Management – an intuitive tool that lets you manage identities, roles, and authorizations to minimize security risks
Single Sign-On – an easy access management tool that lets users securely connect to systems and sites with just one set of credentials
Two-Factor Authentication – a two-step security verification process to better protect both the user credentials and the resources they can access
Vulnerability Assessment and Management – detailed analyses of your network's environment that uncover potential threats and recommend remediation plans
Penetration Testing – a simulated cyberattack against your systems to ensure zero vulnerabilities
Two-Factor Authentication – a two-step security verification process to better protect both the user credentials and the resources they can access
Change & Patch Management
Privileged Access Management – cutting-edge solutions to securely manage and monitor critical assets in your Active Directory environment
Patch Management – thorough scanning of all your devices for missing software updates, followed by effective patches to help you keep up with advanced threats
Security Awareness Solution – a knowledge hub with up-to-date, easy-to-understand best practices to help your teams stay safe against advanced threats
Security Posture Assessment – a thorough assessment of your company's cybersecurity schemes and improvement plans from certified specialists
Rest easy knowing you've teamed up with the best in cybersecurity